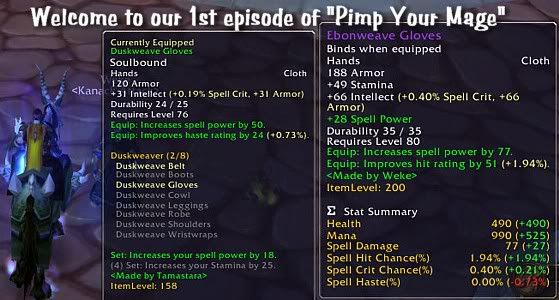 And so I moved to Uldum.
So, I already had a level 54 mage sitting in Uldum's Stratholme entrance. But she had been there for weeks.   Maybe she was never going to get a Strat/Scholo run.
When I transferred Tamastara, the Kanack Attack welcoming committee was already putting together a welcome package for me.   Terry texted me from Warren's house: "We're checking you out on Armory & planning out your gear."   Thank God.   Because my soloed-to-80-only-ever-did-2-instance-runs self felt a little... you know... ghetto.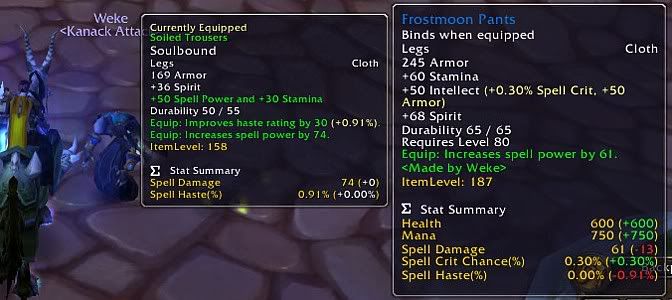 Now, I know there are some of you who aren't going to be impressed by my new threads, but believe me, you would have been hella impressed by my
old
threads --- you would have been impressed by how shitty they were.   But I simply wasn't doing very much there on Bloodscalp by myself.   So this generosity really meant a lot to me.   I mean,
hell
 --- my damage was up to 1200!!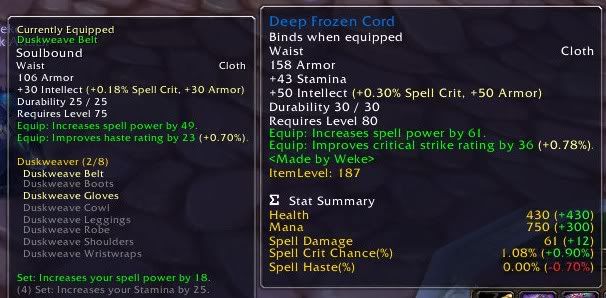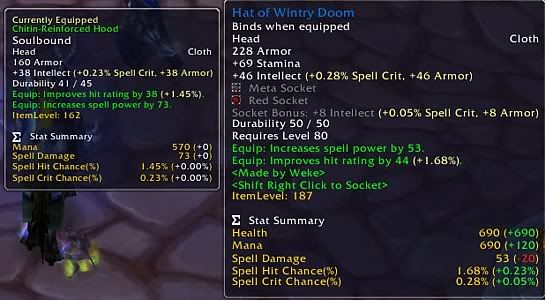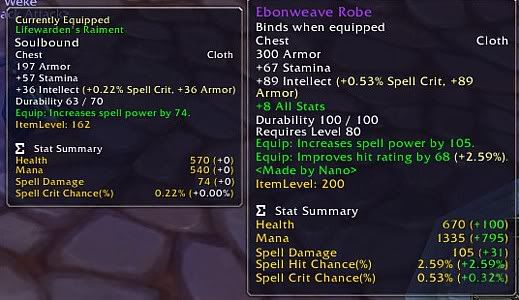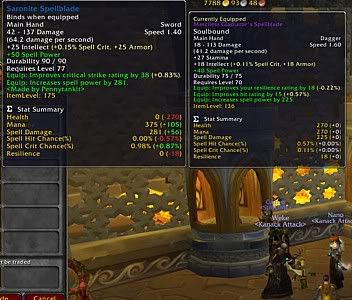 After this, I felt I was ready for anything.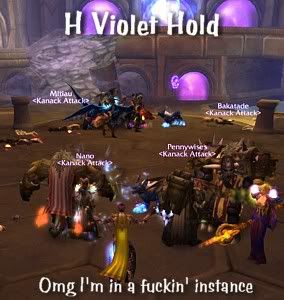 Right away I got to see Violet Hold for the first time.
This was extremely exciting once I got someone to explain to me what VH stood for & where it was. Excellent; I was already in Dalaran!   This was so cool.   I repaired & filled up reagents & everything!!
My first Heroic Violet Hold didn't actually get that far; we wiped several times before giving up.   The shammy healer blamed it on the under par DPS, but actually I had been holding back so as not to pass our tank on my Omen window (yes; I actually finally used it!  Wewt!), & if I at 1200 was holding back, then I'm sure Stef at 1800 was holding back.   And maybe that shammy guy is just a dumbass.
Wipes & dumbass & all, though, it was really awesome to do something in a group again.   I never thought I would say something like that, but can ya blame me??   I'd probably quit a game where I couldn't do anything
without
 a group (hello FFxi), but I don't know how much longer I would have lasted just going fishing every damn day on Bloodscalp.
And the fucked up thing is... my Fishing isn't even 375 yet.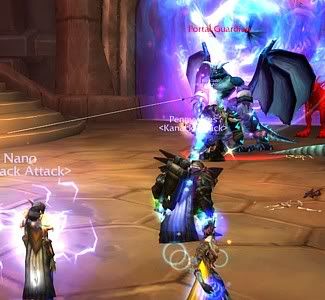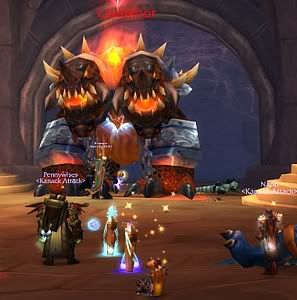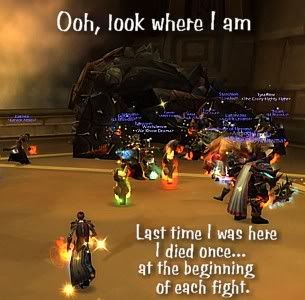 AND THEN!!! Warren got me into a 25-man VoA.
Now, I know what VoA is. It's Vault of Archavon. And I know this, because back on Bloodscalp
I had joined a 25-man VoA
, & during the long spaces of time while I lay there
dead
inside the instance I had a lot of space to reflect on where I was.
I mean, they had to rezz me 3 times in there. And it's not like I did anything other than die. I died at the beginning of every fricking mob. Actually, I must have made it through at least 1 trash mob, or more probably they pulled 2 at a time & I didn't even realize it.
So this time I was determined to make it through. To actually land some nukes on
something
. I told Warren not to move around too much because I was going to stick to him like GLUE. He said what he always says to me:
"lol"
Anyway, it was like I could hear drums beating when we got in there. I think I had Keith on the phone while I was doing this, & he had to listen to me obsessing about staying alive.
"I need to fucking stay al- OH SHIT FLYING ROCKS!!"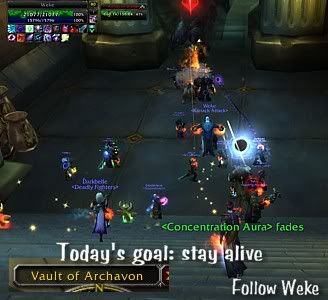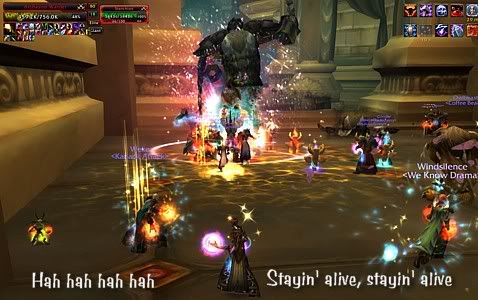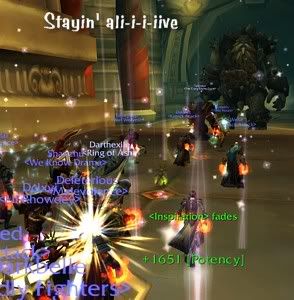 Ok, so my crowning achievement - I stayed out of the flying rocks & the swirling cloud. Good girl. I think Keith was probably as relieved as me when it was over. Frankly this is what I keep Miller Lite in the refrigerator for.
You know.
Miller Time.